CURRENT SERIES...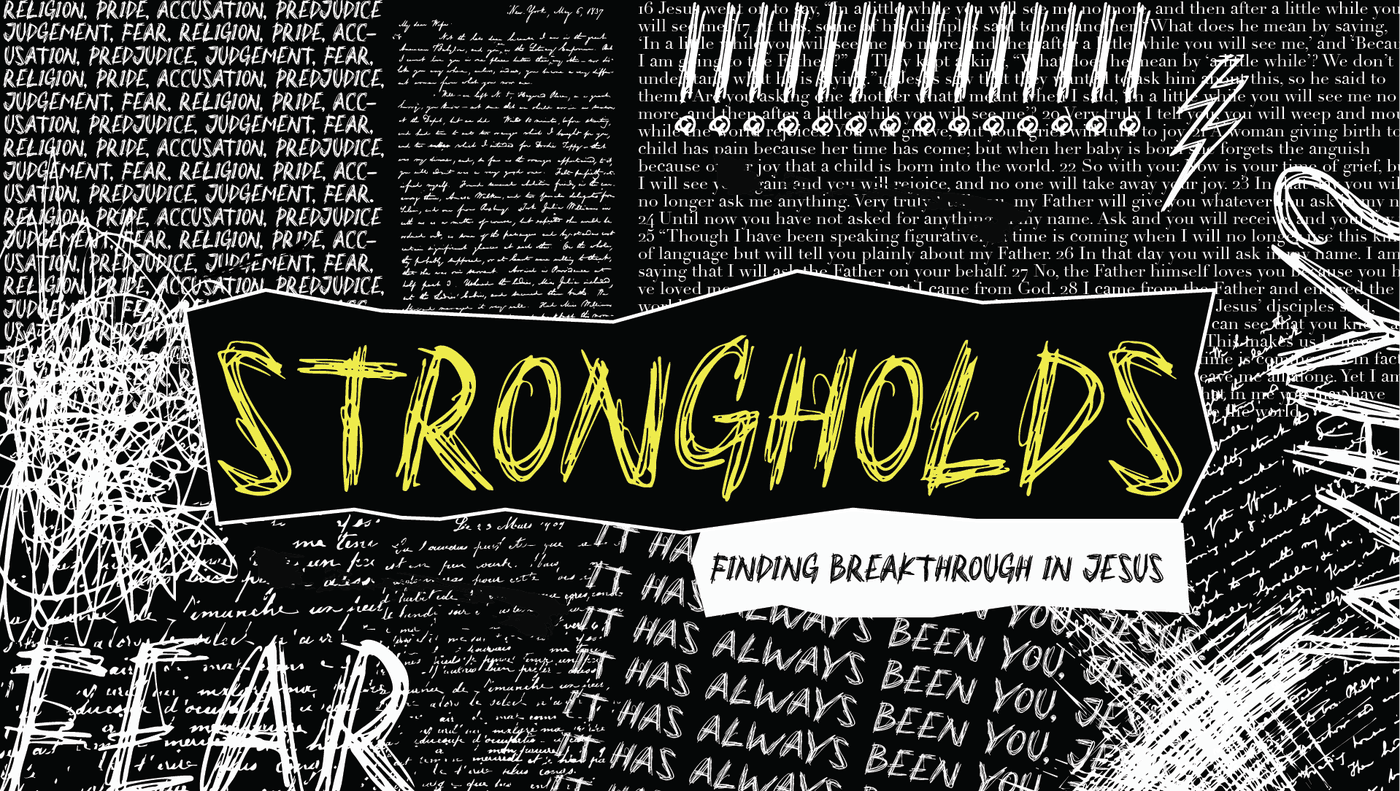 We must realize that we live in a spiritual world. And in this world a battle is taking place between God and the forces of darkness. One of the primary weapons of the enemy is to establish strongholds. Strongholds are patterns of thinking, habits, or attitude that are built on lies rather than truth. These strongholds deceive us from truth, divide us from one another, and ultimately destroy lives. The good news is that God has won the war, and He equips His children to overcome strongholds here and now. Through this series we will look at six primary strongholds that are particularly dangerous to the church today, and we will discover how to break down these strongholds through the power of prayer.
------------------------------------------------------------------------------------------------------------------------------------------------------
February 26—Overcoming Strongholds with Prayer
Acts 4:23-31
Strongholds exist and they are powerful forces in many lives. They hold many of us captive, but it does not have to be so. Strongholds can be brought down and destroyed through the power of prayer, but they must also be replaced with the presence and truth of the Holy Spirit. The early followers of Jesus faced the threat of many strongholds, particularly the ones that we will explore through this series.
These early disciples show us that prayer has the power to replace the strongholds of the enemy with the truth and BOLDNESS of the Holy Spirit.
March 5—The Stronghold of Religion
Matthew 15:1-10
The stronghold of religion can be one of the most dangerous of all strongholds because it carries with it the illusion that I am following God. Despite the illusion, following rules, regulations, and traditions without a surrendering faith and submission to God leaves me just as spiritually dead as those who reject faith religious activity all together. Unless our practices are joined by faith in and love of God, religion anchors me in a lifeless and hopeless list of rules and activities that can actually bring me further away from God rather than closer to Him.
March 12—The Stronghold of Pride—Hunter
James 4:4-10
The danger in the stronghold of pride is in its ability to blind me to my broken state and desperate need for God. Pride prevents me from coming to God by faith in Christ. Pride puts an empty faith in myself and my own ability to perform with perfection without the help of God. Pride leads to death because it is built on the lie that I don't need God for every part of life and hope. To break the stronghold of pride, I must be willing to come before God with humility and confession.
March 19—The Stronghold of Accusation
2 Corinthians 5:11-21
Accusation is one of the primary tools of our spiritual enemy, and it is a great danger to God's people. We face accusation from both the spiritual enemy and from those around us, and we are tempted to come with accusation against others. Accusation is both harmful and distracting, and we must be careful to see both ourselves and others through the lens of God's redeeming and forgiving grace.
March 26—The Stronghold of Prejudice
Ephesians 2:1-14
The stronghold of prejudice separates us from one another and grows a poisonous root of bitterness in my heart. Prejudice is closely related to the stronghold of pride in that it leads me to see myself as superior and others as inferior. This stronghold prevents me from appreciating the gift of others and the gift of God. To break the stronghold of prejudice, I must pray for unity, empathy, and humility. I must embrace my need for those who do not look like me or come from my same background, understanding that faith and character are the measure of a person rather than appearance, pedigree, or heritage.
April 2—The Stronghold of Judgement
Matthew 7:1-5
Jesus is careful to warn us against judging others and condemning them based on our own standard or ruling. Jesus warns against this, not because we should not strive to live holy lives, but because we are not in the position to judge. We are all in need of God's grace every moment of every day because we are all born under the weight and penalty of sin. Overcoming the stronghold of judgement does not eliminate accountability within the body of Christ, but it does call for the prayer to see one another and treat one another with the grace and forgiveness that God gives to us.
April 9—Easter—The Stronghold of Fear
Matthew 28:1-10
One of the most prevalent commands of all scripture is to be courageous and reject fear. While lots of things can be scary and I may feel the emotion of fear, I do not have to be held captive by fear or let it control my actions. I can choose to step in faith. The reason for courage is not that I have the power to overcome. Rather, courage is based on the truth that Jesus has ALREADY overcome. When the stronghold of fear threatens to prevent a thriving and faithful life, I am called to remember and embrace the powerful display of the resurrected Christ and know that His power lives in all who call on Jesus for life and salvation by the power of the Holy Spirit.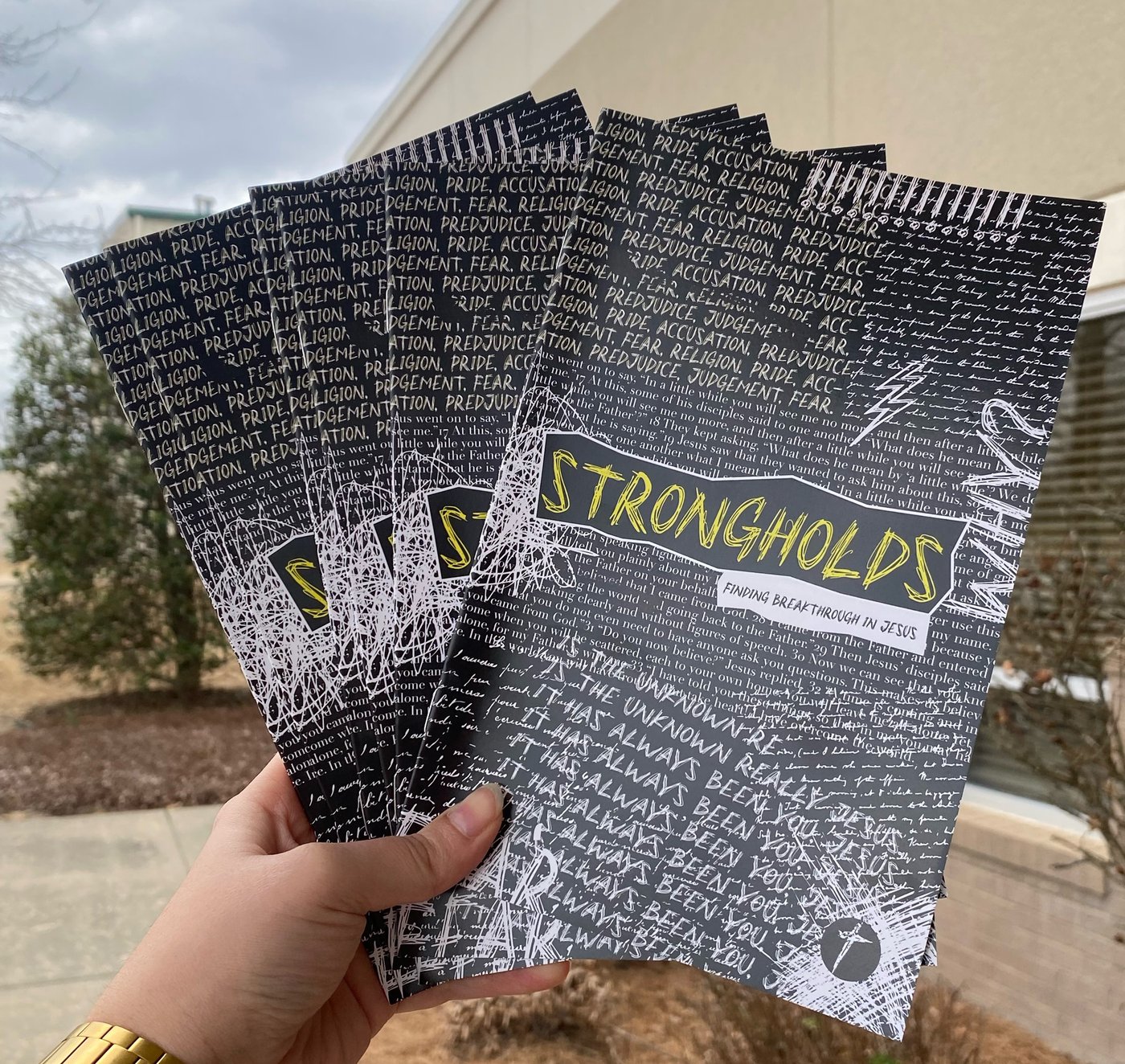 As a companion to the STRONGHOLDS message series, there is a new Strongholds Prayer Booklet for you! You can pick up a copy on campus or you can view a PDF by clicking the button below.
Please note: In the printed version, there is a misprint - the content for March 5 should be on March 12, and vice versa. You should read "The Stronghold of Religion" for the week of March 5 instead of March 12.