CURRENT SERIES...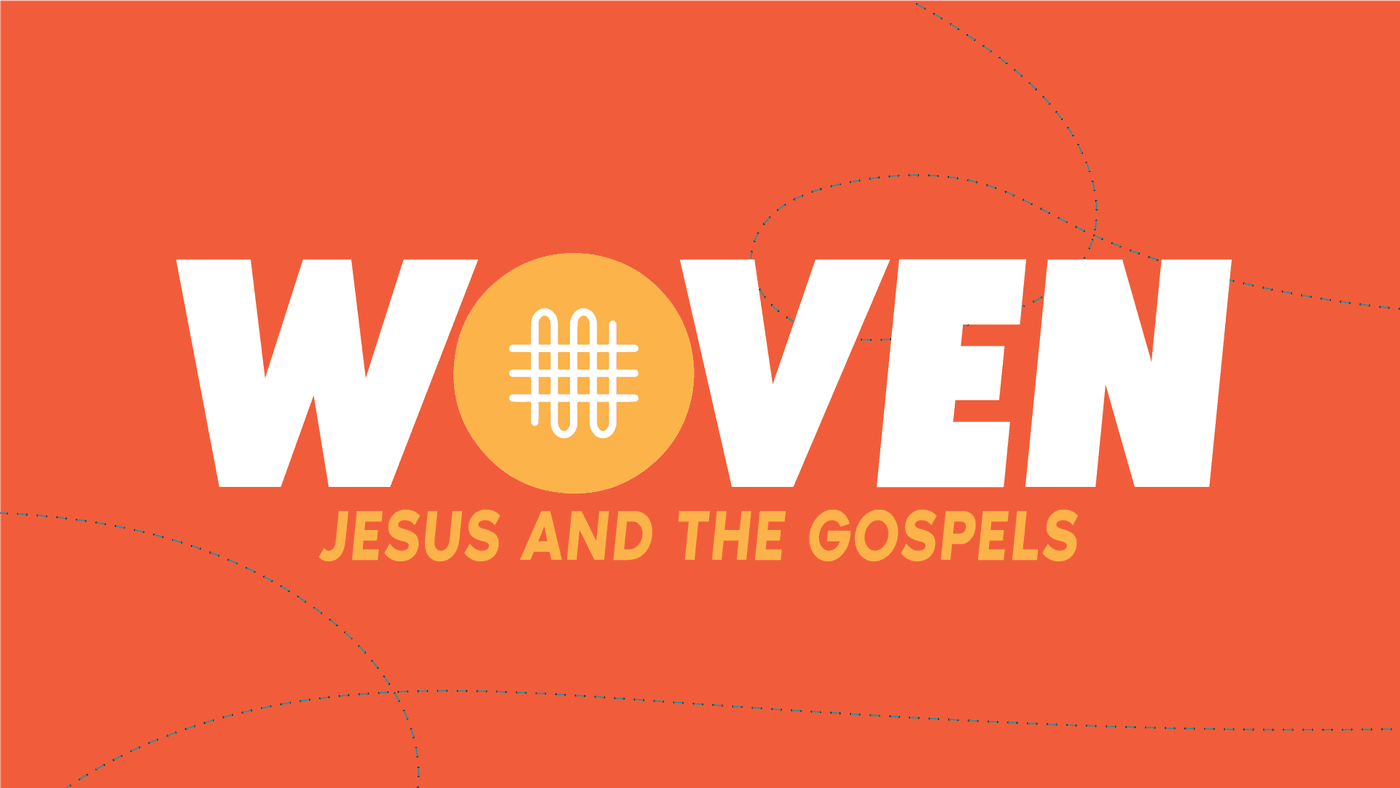 Woven: Jesus and the Gospels
The goal of the Woven Project is to take large portions or "patches" of the biblical narrative and strategically teach through them to allow all of us to gain a better understanding of Scripture. Additionally, all ministry areas will be learning from the same passages of Scripture so that family discussions around the Sunday mornings will become more natural.
The first patch we want to focus on is "Jesus and the Gospels." So, over the next 10 weeks we are going to be teaching through all four gospels. We will be teaching in such a way that will allow us to understand the purpose behind each of the Gospels and to get a more complete picture of Jesus. Our desire is that all of us develop a deeper relationship with Jesus through our study of his life, death, resurrection, and ascension.
Along with this series, we will have extra resources to grow in our knowledge of Scripture. Below we have a daily reading guide for adults and students, overviews of each Gospel, and weekly Family Discussion Guides.
Week 1: Matthew 16:13-20
Peter's proclamation in Matthew 16:16 that Jesus is the Messiah was a bold claim in first century Israel. The Messiah had been prophesied and anticipated for centuries. Now, Peter identified Jesus as the Promised One. What lead him to this conclusion and why does it matter to us?
Week 2: Matthew 17:22-18:6
Jesus did not fit the mold that a lot of first century Jews had built of the coming Messiah. In fact, the idea of a crucified Messiah was greatly stressful to them. Jesus sets out to not only tell them of His upcoming crucifixion, but also wants them to understand that He is God's Son. And if people wanted to follow Him, then they must have faith like a child.
Week 3: Mark 2:1-12
The compassion of Jesus to heal others is highlighted very close to the beginning of Mark's Gospel. This not only allows us to see the love that God has for His people, but it also allows us to see the goal of Jesus. He has come not to just heal the sick, but to forgive humanity of their sins.
Week 4: Mark 10:35-45
The anointing of Jesus takes place in a few places in the Gospels. In Mark's account of Jesus' anointing, we see it as an anointing of Jesus for His death and His crowning as King. The woman of the story was willing to give everything she had to make sure people understood Jesus as the King.
Week 5: Luke 7:36-50
Many times we can have an incorrect view of ourselves, which can lead us to forget how much Jesus has saved us from. When the women comes to Jesus in Luke 7, we see Jesus' compassion towards her, but we also see a woman aware of her brokenness. Seeing our sin correctly allows us to see the great love that God has towards us in His forgiveness.
Week 6: Luke 10:25-37
The call of Christ is to believe in Him and become like Him. While it is easy to love people we are fond of like Jesus, it can be really difficult to love our enemies. Jesus knew this tendency about humanity and He tells one of His most famous parables to illustrate what true compassion for others looks like.
Week 7: John 1:1-13
coming soon
Week 8: John 8:48-59
coming soon
Week 9: John 14:1-4
coming soon
Week 10: John 20:1-18
coming soon